Spring into April with our Latest and Greatest!
AACR 2019 Was a Huge Success
| | For the last five consecutive years, Bio X Cell has been attending the Annual Meeting for the American Association of Cancer Research. |
| --- | --- |
---
New Product
InVivoMAb anti-mouse Ly6G/Ly6C
Clone: NIMP-R14 Catalog #: BE0320
The NIMP-R14 monoclonal antibody is specific for murine neutrophils. The antibody is reported to react strongly with mouse Ly6G and Ly6C previously referred to as GR-1. Ly6G is a 21-25 kDa member of the Ly-6 superfamily of GPI-anchored cell surface proteins with roles in cell signaling and cell adhesion. Ly6G is expressed differentially during development by cells in the myeloid lineage including monocytes, macrophages, granulocytes, and neutrophils.  Read more...
---
Bio X Cell in Press
Activation of ILC2 expressed GITR ameliorates type 2 diabetes
Type 2 innate lymphoid cells (ILC2s) are one of many types of immune cells present in adipose tissue. Once activated ILC2s can regulate metabolic homeostasis, promote anti-inflammatory conditions, and improve glucose homeostasis. Because of this ILC2s have been explored as a therapeutic target for treating.
---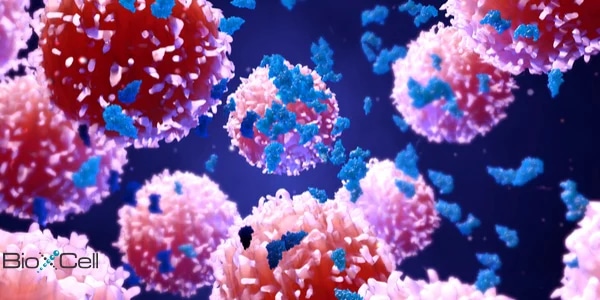 Contract Production Of Antibodies
Bio X Cell provides production and purification services of antibodies produced from pre-existing hybridoma cell lines. These hybridomas are typically developed in the client's laboratory or available in the public domain.
This service includes fermentation of the hybridoma in cell culture, harvest of the cell culture supernatant by centrifugation and concentration by 30 kDa ultrafiltration. Purification is performed by Protein A or G affinity chromatography. The purified antibody is dialyzed into PBS and filter sterilized. Learn more...
---

Are you attending AAI 2019?
Bio X Cell will be attending AAI 2019. We will be at booth#915. Come visit our booth to spin our prize wheel, win product discounts and collect your free T-shirt! We are looking forward to speaking with you about our new antibodies and discovering how Bio X Cell can help you achieve your research goals!