Having fun while making a difference!
In January of 2020, Bio X Cell launched the Community Participation Program (CPP), a new initiative to encourage employees to be active contributors to the community we live in. With the CPP, all employees will have the opportunity to be paid for up to 16 hours of qualifying service per year.
The CPP is intended to support non-profits and Bio X Cell's philanthropic areas of focus including mental and physical health, environment, arts and culture, and organizations that provide humanitarian support including disaster relief.
As part of CPP, Bio X Cell's Digital Marketing Manager, Heather Smith, volunteered at Cedar Circle Farm in East Thetford, VT on Tuesday, July 27, 2020, with the Willing Hands Gleaning and Gardening program.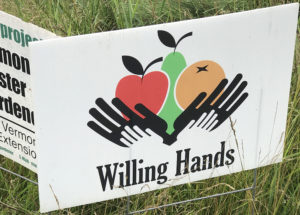 Willing Hands brings fresh fruits and vegetables to food-insecure individuals and families. One of the ways in which they do this is through the Gleaning and Gardening program. Volunteers glean crops from participating farms. The food is then donated to local agencies that distribute it to those in need.
Here is Heather, talking about her experience:
I arrived early Tuesday morning, masked, and eager to help. I spent about an hour harvesting romaine lettuce and another hour-and-a-half harvesting cabbage. We were on a tight schedule with limited volunteers.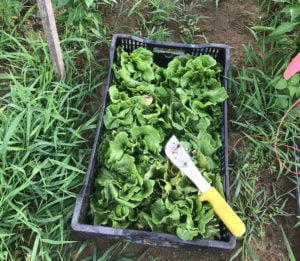 There was an abundance of the romaine lettuce crop and we harvested two full rows. We all cut the lettuce with small machete-like knives and then placed them into large black crates. After our crates were full,  we handed them off to another volunteer to be cleaned and stacked.
We had a different approach when harvesting the cabbage. Instead of stacking up crates, we loaded up wheelbarrows. Both the cabbage and the lettuce were cleaned, weighed, and loaded onto the Willing Hands truck. From there, they were sent off to serve the community.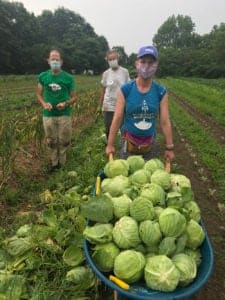 It was fun to get to know the regular volunteers and to pick their brains for gardening tips. Many of the participants in the Willing Hands Gleaning and Gardening Program are retired and find joy in helping their community through an accommodating and resourceful organization.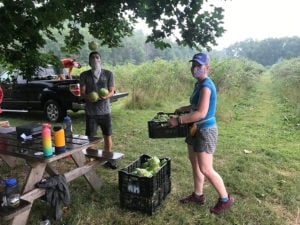 Volunteering was a refreshing experience (literally) as it poured, and we were all left dripping wet. The rain didn't stop anyone from continuing their important tasks. Despite being a couple of volunteers short, the session was a success and we were able to send off a lot of food to those who need it.
I am looking forward to volunteering again soon!