Does type I collagen play a role in your research?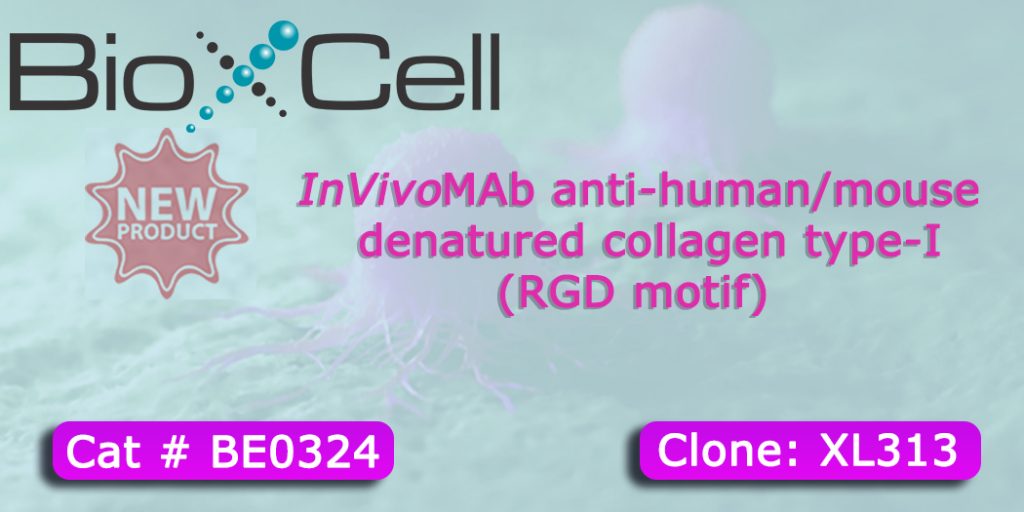 InVivoMAb anti-human/mouse
denatured collagen type-I (RGD motif)
The XL313 monoclonal antibody reacts with denatured human and mouse collagen type-I but not native collagen type-I. The antibody reacts with the RGD motif. Collagen is a fibrous multi-chain triple helical protein that exists in numerous forms. Collagen type-I is the most abundant collagen type in the extracellular matrix. Collagen type-I, type-III, collagen type-IV and collagen type-V have been shown to be associated with all pre-existing blood vessels in vivo. Denaturation of the native three-dimensional structure of collagen is thought to expose cryptic regulatory regions that control angiogenesis. The XL313 antibody has been shown to inhibit angiogenesis in chick embryos and enhance the anti-tumor activity of anti-PD-L1 therapy in vivo. XL313 administration has also been shown to inhibit Lewis lung carcinoma tumor growth in C57BL/6 mice (shown in US Patent No: 7588760B2).
This Antibody Is Useful For:
Western blot

Immunofluorescence

in vivo administration (see description)
As always Bio X Cell antibodies are specifically formulated for in vivo use and feature:
95% purity

Ultra-low endotoxin levels

Preservative, stabilizer, and carrier protein-free
Read how other researchers have used the anti-TL1A antibody.
Recommended Control and Buffer

InVivoMAb mouse IgG1 isotype control, unknown specificity
The MOPC-21 monoclonal antibody is ideal for use as a non-reactive isotype-matched control for mouse IgG1 antibodies in most in vivo and in vitro applications.

InVivoPure pH 7.0 Dilution Buffer
InVivoPure™ dilution buffers are specifically formulated and tested to satisfy the stringent requirements for in vivo applications. They are extremely low in endotoxin, have been screened for murine pathogens, tested in animal models for toxicity and are formulated with respect to buffer composition and pH to satisfy the requirements of Bio X Cell's antibodies.