Team Building with Bio X Cell

Team Building with Bio X Cell
Every month Bio X Cell plans fun activities! This is a great way to enjoy ourselves without the normal stressors of the work environment. Team building has been an increasingly-discussed topic among the best establishments. Forbes refers to "Team Building" as the best investment a company could make. "It builds trust, mitigates conflict, encourages communication, and increases collaboration. Effective team building means more engaged employees, which is good for company culture and boosting the bottom line."
Bio X Cell values its employees. Kate Bessette is our company organizer and has made it her mission to create team-building opportunities among the Bio X Cell team.  She explores new, exciting ways to bring us together outside our work environment. Every month a new event is planned and all are invited and highly encouraged to attend. Some months, our activities are scheduled during working hours in which employees are required to attend. Kate does a fantastic job spicing it up from pumpkin carving to dinner cruises; we always enjoy ourselves!
Why team building?
Team building matters!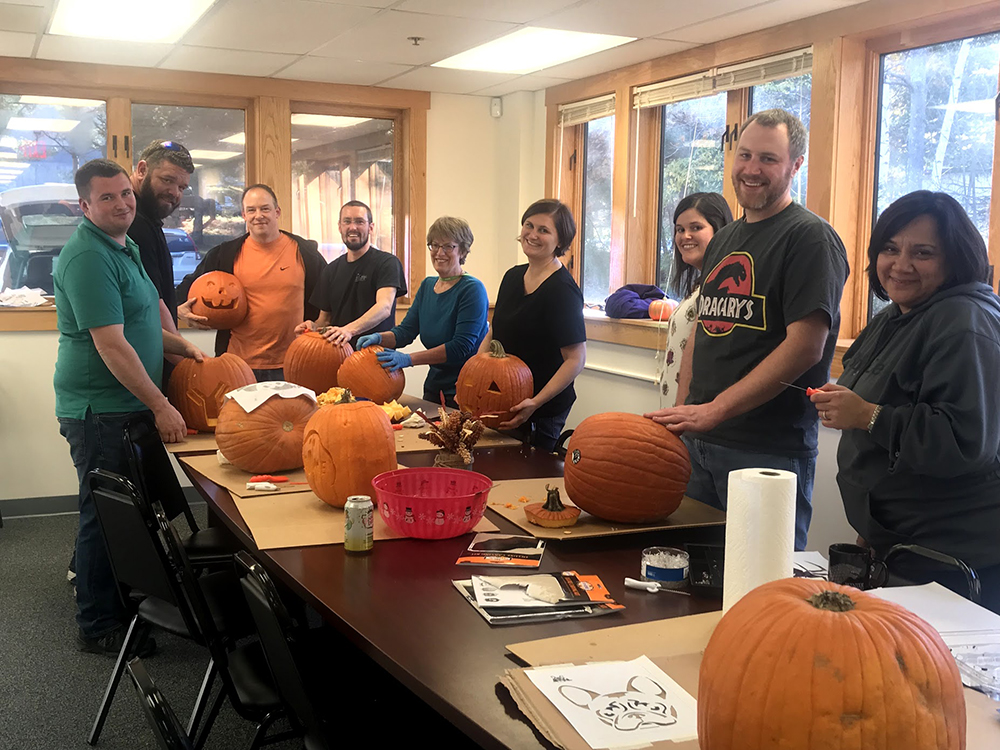 The culture of a work environment has everything to do with employee retention, productivity, performance, engagement, revenue, and emotional and physical wellbeing. Bio X Cell excels at employee retention with a well-above-average rate. The Work Institute (2018) predicts by 2020, 33% of employees will be looking elsewhere for their employment. Why? Why do employees leave? The truth is happiness is an essential component to employee retention. The 2019 Employee Engagement Report reveals when asking employees if they would leave their current employment for another organization granting a 10% increase in pay, one interviewee describes how she would not leave for the salary increase alone. She continues stating that team culture, flexible working schedule, and employee benefits have a stronger impact than sole financial compensation.
Productivity....when employees are engaged and excited to come to work, productivity, performance, and engagement increases. Team building brings employees together to have FUN together. Many times our work consumes us leaving little room to have fun throughout a typical workday. Planning and devoting specific time outside of the work environment promotes a well-balanced, healthy team culture. Employees that are happy are healthy, according to the American Mental Wellness Association, 2019.  Creating regularly scheduled team-building activities promotes a plethora of positive outcomes. Bio X Cell is thrilled to be executing a well-balanced team culture and therefore reaping the benefits of strong and competent employees.
FUN in the sun!
At Bio X Cell, our environment is aimed to be light and fun.
Laughing and smiling is kind of a constant necessity for employees.  We all wear many hats and go out of our way to help each other. Everyone works very hard in their roles; however, having fun while working is our main objective! Not only do we have regular, scheduled team-building activities, but we also come together for philanthropy and benefits raising money for research such as The Prouty! Since 2015, Bio X Cell has promoted and participated in The Prouty event raising money for cancer research. 
Building Strong Relationships
Bio X Cell's employees consider their coworkers, friends.
We don't always see eye-to-eye on subjects; however, everyone respects each other and values opinions regardless of beliefs. Team building helps us come to a mutual agreement by building strong relationships within our work environment.
Drinks and Apps
Team building doesn't have to be elaborate.
A simple evening to gather and have a cocktail could be all that is needed. Are we talking shop? Well...we tried not to. I guess when you love your job so much, it's hard not to talk about it!
Par 4
Why should you go mini-golfing when it is cold outside?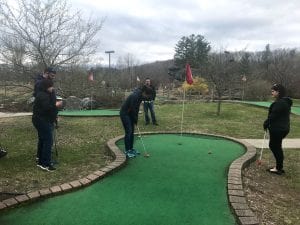 Speaking of elaborate or not so elaborate...on this not-so-sunny spring day our team made plans to play mini-golf. It was frigid cold! We complained, we laughed, we drank coffee to warm us up. Some got a hole in one and others lost their ball. However, we created a nice memory for the Bio X Cell crew. And that is what team building is! 
Screening of Breakthrough
Jim Allison: Breakthrough - This is what a hero looks like. A Bill Haney Documentary.
The Bio X Cell team was delighted to view the documentary 'Breakthrough'. We were welcomed with delicious popcorn and pizza as we gathered around a movie screen. I don't think any of us blinked as we were anxiously-interested in the next scene. Bill Haney did a marvelous job capturing the essence of Jim Allison's life-changing discovery.

Soup, Stew, and Chili Cookoff
What's more fun than getting together for a lunch cook-off with your co-workers? Not much, really..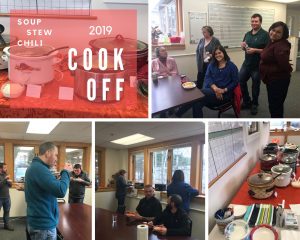 Most participated, everyone sampled, and we all ate too much! There was an assortment of chilis, cream of broccoli soup, corn chowder, beef stew, chicken tortilla soup, spit-pea soup, and Italian wedding soup. Everything was delicious.
The categories for the three winning dishes were:
Originality 

Taste

Comfort food

All of our winners were awarded a prize:
Devin's Twisted Whiskey Chili  (Prize-Chipotle Infused Olive Oil)

Sally's Chili Verde (Prize-Tuscan Herb Infused Olive Oil)

Justin's VT Venison Chili (Prize-VT Maple Dark Balsamic Vinegar)
Most of us indulged in some tasty treats before heading back to work for the remainder of the afternoon.
Yankee Swap and Cookies!
Oh, what fun it is to....Yankee swap?!
Check out our hilarious gallery of photos from December's Team Building activity.  
Harvard vs. Dartmouth
On Saturday January 25, 2020, the Bio X Cell staff and family gathered at Leede Arena to watch a Harvard vs. Dartmouth basketball game.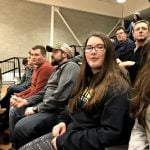 In between plays, the cheerleaders cheered and flipped while the band played. We all reached high trying to "score" a t-shirt. It was such a joy to watch the sportsmanship and skill modeled by each of the athletes!
The game was close, and fans were kept on their toes through the dramatic final minutes.