Carter Community Building Association
The Carter Community Building Association (CCBA) is a non-profit organization dedicated to delivering high quality, accessible services and programing to the Upper Valley. The CCBA was established in 1919, and for the past century has provided educational, recreational, and fitness opportunities to members of all ages. These services include a preschool, an afterschool program, youth sports programming, summer camps, outdoor recreation area, group fitness classes, indoor pools, circuit training room, and weight room.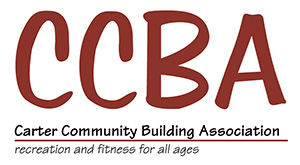 In compliance with state policies in response to the COVID-19 crisis, the CCBA stopped in-person operations in March and has had no incoming revenue since that time. The CCBA made the decision, however, to retain all employees and has been conducting services remotely when possible.
In recognition of the valuable place the CCBA holds in the Upper Valley Community, the Bio X Cell Charitable Fund has made a financial gift that we hope will help offset the revenue losses they are experiencing. It is our hope that this wonderful organization will continue to serve our community for another 100 years!